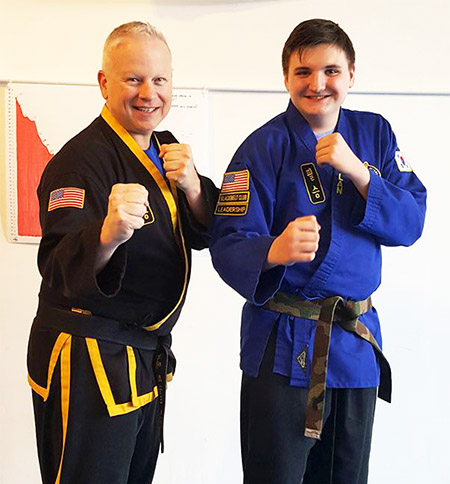 Unbreakable Spirit: Dylan Haufler Powers Through Multiple Disabilities to Earn His Black Belt in Choi Kwang Do
Posted: April 10, 2019
Growing up is a challenge for most kids. But for 17-year-old Dylan Haufler, the road to adulthood has been littered with hurdles that could have easily shattered him, both physically and spiritually: A long series of medical and neurological ailments – some misdiagnosed for years – made not only school but everyday living, a struggle.
But none of this has stopped Dylan or his family from having high ambitions for him. Thanks to years of dedicated practice, family support, and the mentorship of James Taylor, founder of High Springs Choi Kwang Do, Dylan has earned a coveted black belt in Choi Kwang Do – and after a lifetime of academic struggle, has found his focus and become an honor student.
Getting to this point was not easy.
"Both Dylan and his sister – she's five – have a neurological disorder that causes them to have epilepsy and severe ADHD, but we didn't know for a time," explained Dylan's mother, Sheila Haufler. "With Dylan, we didn't even know he had epilepsy until he was ten."
The struggle to understand Dylan's condition was long and frustrating. "We were told something was wrong, but we weren't sure what it was. They held him back a year in school, and we realized the possibility that something was really wrong, so we took him to be tested – we were told he had all these learning disabilities and he'd never be able to live on his own," Sheila recalled. "A couple of years ago, we found a multidisciplinary training program that was really to test if you were autistic. And he was about eight at that point. And they said he wasn't autistic, but he had severe ADHD. And then when he was 13, we found out he actually had Asperger's Syndrome."
Compounding Dylan's challenges were a range of physical ailments, from flat feet to pulmonary problems to an infected salivary gland and severe allergies. "His allergies were so bad that he was also constantly making really loud noises, so he'd be picked on at school and kind of be ostracized," Sheila recalled. "He ended up having sinus surgery."
But despite these challenges, Dylan's parents believed in the importance of physical fitness and made concerted efforts to keep him physically active. While Dylan enjoyed swimming – an activity his parents insisted he and his siblings master – the social give-and-take of team sports overwhelmed him.
"When he was little, we'd start trying to get him into sports," Sheila said. "We tried soccer, and he just could not participate. He couldn't follow the game. It was really stressful for him, stressful for us. We tried flag football, and I will never forget – they had all these people running around the field yelling, and Dylan was sitting on the ground, next to the field picking flowers. He was just not involved. And the coaches were getting mad, some of the kids were getting mad. And I started crying – and I was like, 'Why are we doing this? Who are we doing this for?' So I said, 'Dylan, it's the middle of the game – do you want to go?' and he said 'yeah.' And I said, 'Let's go.' And we just left. And we never went back to team sports."
Discovering Choi Kwang Do was a happy accident. "I honestly don't know how I found out about Choi Kwang Do," Sheila said. I think maybe I saw the sign. So I called and told them about Dylan and his challenges, and how he was unable to participate in any sports, and how we'd tried almost every one of them. And James said they'd had really good results with people with difficulties like Dylan's."
"I probably have 13, maybe 14 kids on the autistic spectrum right now," said James Taylor. "They're all on different points on the spectrum. We don't treat them any different than any other child. And it works."
The fundamentally non-violent philosophy underlying Choi Kwang Do makes it especially appropriate for those with special needs, James said.
"I think it really lends itself to that because there's no competition, there's no 'I've got to beat you down, I've got to go against other people.' " James said, explaining that Choi Kwang Do was developed by its inventor, former Tae Kwon Do master instructor Kwang Choi, as an ergonomically safe, health-focused, non-competitive alternative to Tae Kwon Do.
"It's not a team effort, even though you're in the same room with other people, it's individual – there's no pressure to keep up with the Joneses. Everything is about the individual, and that's really key for autism."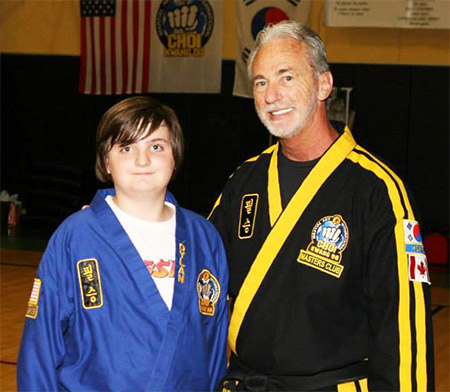 But Sheila had other concerns about Dylan participating in martial arts. "The bones in his eardrums weren't fully developed, so if he ever hit his head, he would be in danger of losing his hearing," she explained, "but James assured me he would never be hit in the head."
After hearing James' reassurances, Sheila enrolled Dylan and his brothers in Choi Kwang Do. Dylan, however, was understandably leery about starting yet another sport.
"When he first started, he was nervous," Sheila said. "He wasn't quite sure because he'd had several bad experiences with sports, so he wasn't quite sure how it was going to be for him. And I told him to try it."
"When I started, stretches were so hard for me. Then I decided I would just keep doing it," Dylan said. "I like that it's challenging and it gives me something to look forward to, and it's something I can do to take my mind off everything else."
The focus on personal achievement rather than group activity put Dylan at ease. But while his learning and practice is individually focused, the group-based instruction has brought unexpected benefits as well.
"There's also a competitive aspect in that he sees other young people show how well they do," said Arline Philips, Dylan's grandmother. "So Dylan is challenged and inspired to do better for himself."
Arline usually drives Dylan to and from the studio for his classes, so she typically stays and watches as he works out. This has given her a chance to see in real time how Dylan has blossomed through his Choi Kwang Do practice.
"It's been gradual, but he's been obviously improving. It's actually reshaped his personality. It's helped him gain confidence in himself," Arline said. "I remember he had trouble expressing himself, and he does not have that difficulty anymore. I think this is one of the largest changes."
"There's a connection between physical discipline and other disciplines," she continued. "For example, as he's advanced and gotten better in Choi Kwang Do, he's also advanced and gotten better in his schoolwork. He concentrates better, he's more motivated. When you reach a certain level of achievement, it makes you feel good, it makes you feel like you can go to the next level. And James, who's working on his master's level black belt now, he makes you feel that pride of achievement."
Sheila agrees. "I feel like Choi Kwang Do has been this one good thing for him that he's always been able to work hard at. We were told that people with Asperger's have poor muscle tone. But his therapist told me they have poor muscle tone because they make their world really, really small, and they tend to want to stay in their rooms. So they have poor muscle tone because they don't leave their room, or maybe they aren't athletic because they have poor muscle tone. I feel that Choi Kwang Do has really helped him build his stamina and strength in a way that a lot of people with Asperger's might not be able to."
Dylan's newfound confidence and physical agility also enabled him to overcome problems with bullying he'd faced both at school and at home.
"When I started Choi Kwang Do, I was bullied a lot both in school and by my older brothers, then one day, everything just stopped. I went to school, and things were better," Dylan said.
His mother agrees. "Dylan has never used his Choi Kwang Do on anyone, but I think he feels better knowing that if he needed to, he could," Sheila said.
Still, Dylan's road toward the black belt has been rocky. While non-violent (its techniques are intended to be defensive, rather than offensive), Choi Kwang Do is a mentally and physically demanding sport, requiring its practitioners to memorize and master long sequences of complex movements. "Some of the kicks that he has to do to get up to the higher belt levels are quite intricate – you have to turn, you have to kick backwards, you have to keep your balance, at all times guarding your face," Arline said. "And even the way you move your fists to do the punches – everything is a precise movement."
These demands can be tough for anyone to master, but even more so for someone suffering from ADHD. Nevertheless, Dylan powered through his lessons. "The memory work and the discipline have been very challenging, but he has accepted that challenge, and as he got better and better, he was more motivated to want to do well in it," Arline said.
But Dylan's medical issues still created hurdles to his progress. Sinus surgery required him to step away from his training for several months, as did a painful bout of MRSA. More recently, a broken foot kept him sidelined for several months more, forcing him to postpone his planned black belt test.
"He's had to take a lot of time off, and we're so thankful that James is always like, "Well, we'll be here," Sheila said. "There were times when Dylan felt that he wasn't progressing as quickly as the other young people who were there when he started the program, and I had to keep reminding him 'You haven't been able to go like they have.' But he just gets right back into it, and he just picks himself up and dusts himself off – he just kind of rolls with it."
Once his foot healed, Dylan immediately resumed the serious training he'd need to earn his black belt. He trains three times a week, often helping teach younger students as well. James makes it clear he expects his students to rise to his expectations: Displayed on a high shelf in the studio is a row of black belts, each embroidered with the name of a student expected to take the test in the near future.
"My black belt's there already; every day I come to class and it's there," Dylan said. "And I've been waiting for this to happen, and now that it's here, it'll be like "what is it I had to do to get it?" I honestly thought it would be easier but it wasn't, so I decided that I had to work harder at it."
He knew from hard experience that getting his black belt wasn't a given. "My most memorable moment here wasn't really a good one." he recalled. "At the time, everything seemed really easy, so I didn't really try too hard. I'd just go and then come home, and I didn't do anything, so I was told I couldn't test for the next belt. And I cried. And that's when I learned I'd have to work hard, because if I didn't, I wouldn't go anywhere."
Such values-based lessons are inherent to Choi Kwang Do. On one of the walls of the Choi Kwang Do High Springs studio hang six banners in Korean calligraphy. Each represents one of the six principles of Choi Kwang Do: humility, integrity, gentleness, perseverance, self-control, and unbreakable spirit.
The latter, James said, is an especially important part of what he teaches kids. "You have bullies, you have name-calling, you have kids who don't have an athletic bone in their bodies that are getting picked on all the time. And how you get past that and get through the drudgery of middle school and high school is unbreakable spirit – the point when you can say 'nothing you're going to say to me is going to hurt me or stop me.' "
Dylan fully understood the challenge ahead. Tests for advancement in Choi Kwang Do are cumulative, and for the black belt, Dylan would have to demonstrate proficiency in every pattern and technique he had ever learned, from his beginning white belt days onward. The black belt test – several hours of repeated demonstration of techniques, patterns, and equipment drills, along with an oral examination on the history and traditions of Choi Kwang Do and a written essay – would push his memory, coordination, and endurance to its limit.
On the day of the test, Dylan came to the studio with his family, who waited and watched from the spectator area. James had no doubt Dylan was prepared and qualified to take the test ("I never send anyone to a test who's not ready"), but knew that stress and tension could hamper anyone's endurance, and thus their performance.
"Most people can't handle the first minute. They struggle, and after thirty seconds, they're gassed because they lock up every muscle and tighten their body," he explained. "Once they realize they can throw a punch just as hard without having to lock up every muscle, then their endurance goes really high."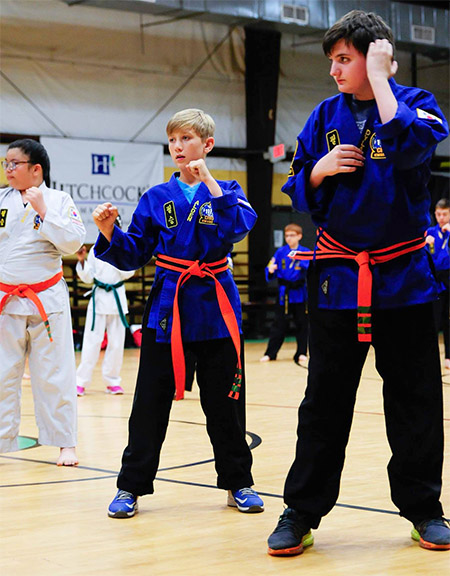 Thanks to his conscientious training, Dylan avoided this pitfall and passed the test easily. "He did a very impressive job. He didn't have any mental breakdowns, which can happen during fatigue. He answered all his questions correctly – we have a ton of history and trivial questions to answer, everything from Grandmaster Choi's birthday, where he was born, what city, to when he switched from Tae Kwon Do to Choi Kwang Do, and a little history too," James said.
"He was super-tired at the end. We had a little party afterward at a Mexican restaurant and had cake, and everyone said some nice words about Dylan – it was nice," he added. "His parents had gone through a lot – to have him accomplish something like this was huge for them."
But neither Dylan nor James are ready to rest on their laurels yet. "He wants to go right into second degree black-belt training," James said. "He's already had his first two classes and he'll be here tonight.
It's a lot harder at black belt because you have a lot more technique – you get into double kicks, cross-step kicks, each level has a different block, each level has a different pattern, each level has much longer speed drills."
James has even bigger plans for Dylan. "He's 17 now, so I'd like to see him start thinking about being a teacher – he's eligible to become a full instructor and lead classes on his own when he's 18. Black belt to me is being a teacher. You learn so much more teaching than you do as a student. And I think that will help take him to the next level."
Arline already sees Dylan thriving with his current teaching responsibilities. "When you take part in the instructing, you have to learn how to deal with little tiny children and frail adults or adults who just don't get it, and you have to be able to swing from one type of person to another," she explained. "I see him doing really well with little children. He has a way of stimulating them to do hard things, but at the same time, he makes it feel like fun. So I keep saying to him, if nothing else, you can be a good teacher!"
The rest of Dylan's future is still wide open – he loves video games and is thinking of pursuing a career in videography or game production. He's also working on getting his drivers' license. But whatever path he chooses to pursue, his efforts will be informed by the lessons in persistence, goal setting, and unbreakable spirit he learned through Choi Kwang Do.
"I think Choi Kwang Do has given him something he could accomplish and feel proud of – and I'm so thankful, I don't think this was an experience we could have gotten at any other school," Sheila said. "I think it's James and his wife – I think they really care for Dylan, and have worked so wonderfully with all his challenges, and I'm just really thankful for that."